One of VITA Digital Productions' unique
Virtual Walk Series
(All photos on this page are
actual still frames
from this DVD.)
Click here to watch video highlights from this DVD.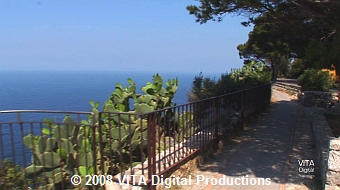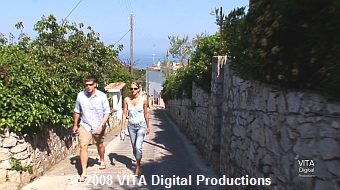 This new DVD has a
50 minute widescreen virtual walk
on the Isle of Capri,
one of the most famous resorts in the world. This DVD is the perfect accessory for your treadmill,
Nordic Track, elliptical, or exercise bike. It is also the
perfect gift
for friends and family.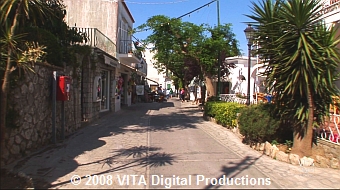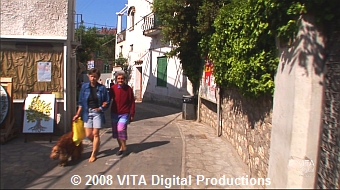 Just place it in a DVD player, step onto your treadmill, and instantly
you will be taking an unforgettable walk on the exclusive Mediterranean island of Capri.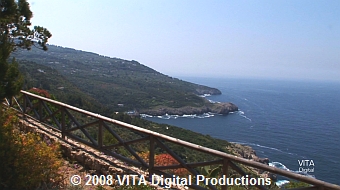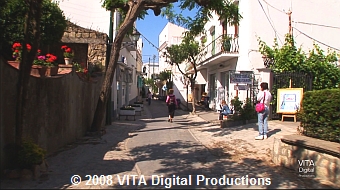 Capri has been a summer playground for the
rich and famous since the time of the Romans.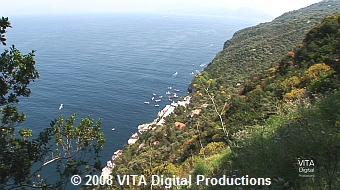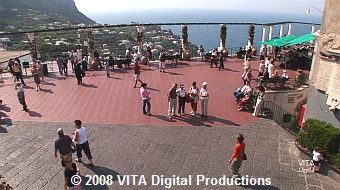 Kings, Queens, Emperors, pop-stars, composers, artists, and authors
have summered on this beautiful isle.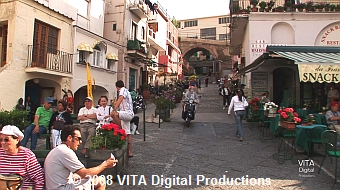 Reached by ferry or hydrofoil service from Naples and Sorrento, Capri is
full of day-trippers during the summer season.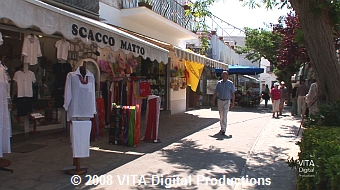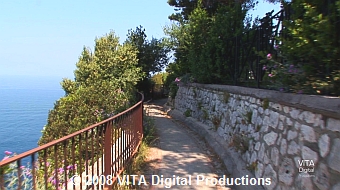 Filmed in Widescreen with High Definition* television cameras and camera stabilization equipment,
this is
one of our most beautiful virtual walks!
The camera seems to float as it transports
you from the town of Anacapri to the coastal cliffs at Damecuta.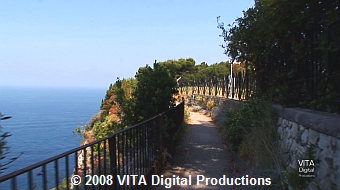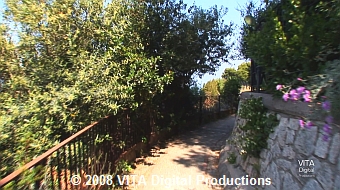 During your 50 minute virtual walk on the Isle of Capri, you will "visit"
some areas that tourists usually see only from boat tours around the island.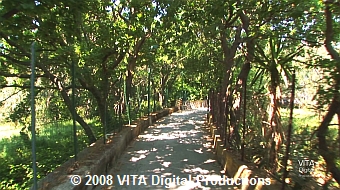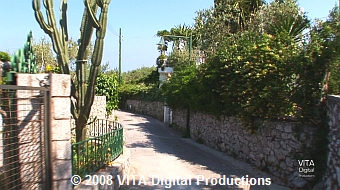 You are "experiencing" a day on Capri - an island
known for being a magnet for artists from every corner of the world. .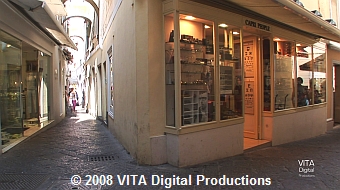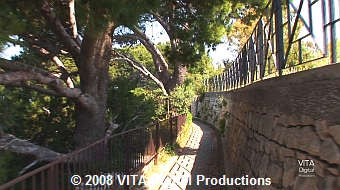 This is not a traditional travel video.
The television camera is constantly moving you forward, transporting the viewer
through some of the beautiful areas of the Isle of Capri.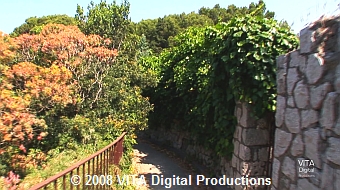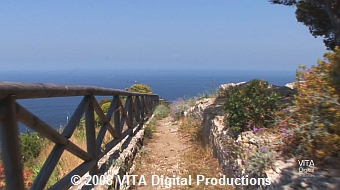 The 50 minute walk is accompanied by the natural sounds
just as they were recorded in stereo in Italy.
Click here to watch video highlights from this DVD.
---
Exercising has never been easier or more enjoyable!

And this DVD is so rich in details
that you will notice something new every time you view it.

But you don't have to have an exercise bike or treadmill
to enjoy this DVD.

It also makes the perfect gift for people who want
to experience a charming part of Italy in a totally unique way:
a way not possible with traditional travel videos.

This would be a terrific holiday gift for one of your friends
who still talks about that wonderful trip to Italy!
---
---

A Description of the Walk on this DVD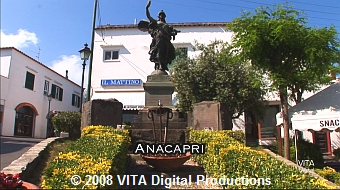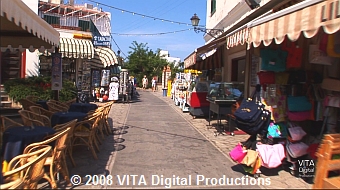 The first part of your 50 minute walk begins in the picturesque
town of Anacapri, set atop the Isle of Capri.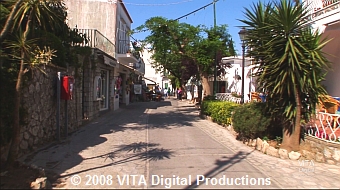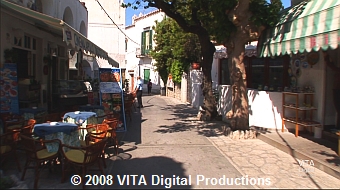 Avoiding the main tourist trail through the centre of Anacapri,
you strike off on your own and walk down a small street lined with shops and intimate sidewalk cafes.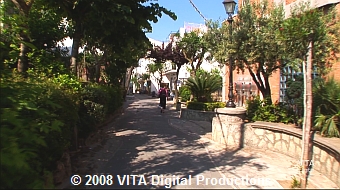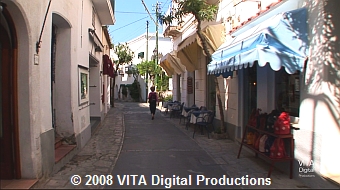 The further you go, the more beautiful the scenery becomes.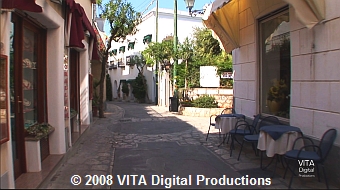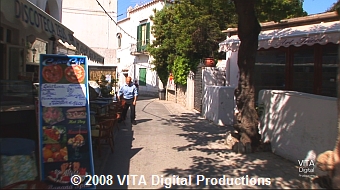 Passing more shops and sidewalk cafes, you enter an area reached by few tourists.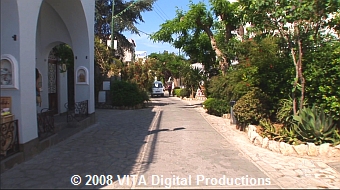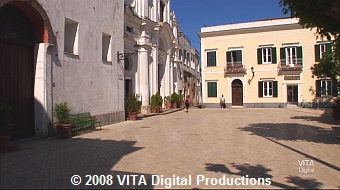 Soon, you enter a piazza and pass Santa Sofia, the main church of Anacapri.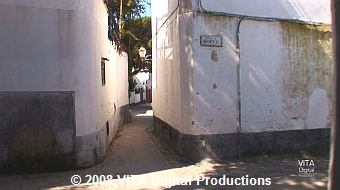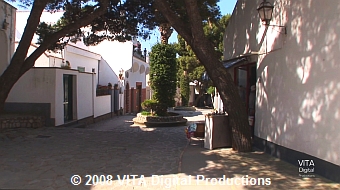 Further on, your walk takes you into the narrow alleyways of the village,
and you enter the "real" Anacapri.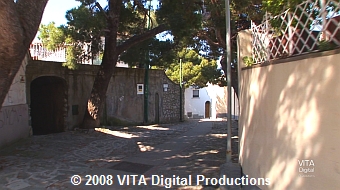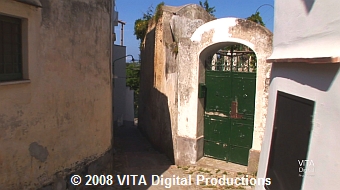 You are in the residential section of Anacapri, where the locals reside.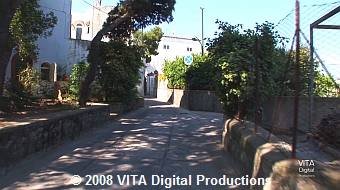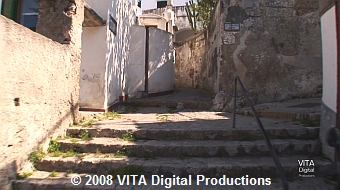 As the walk continues, one can't help but to imagine what living in all this charm would be like.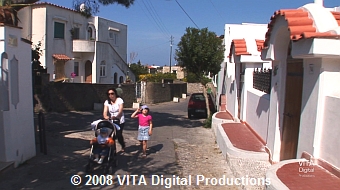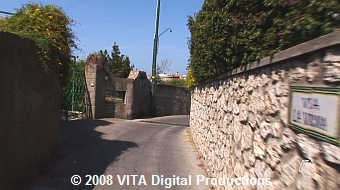 Passing a mother out for a stroll with her children, you continue on down the winding street.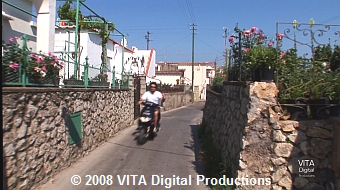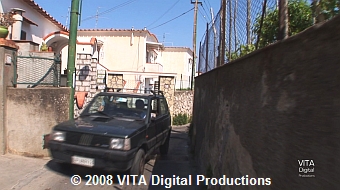 From time to time, you do have to share the narrow street with motor scooters and small cars.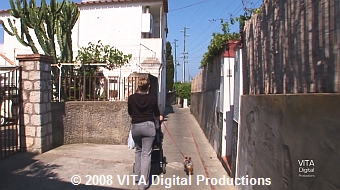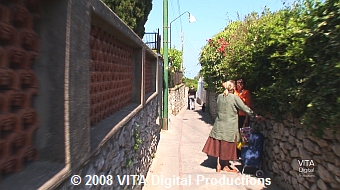 The street narrows even more and you pass more locals stopped for a chat.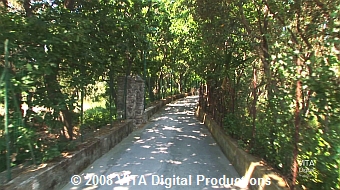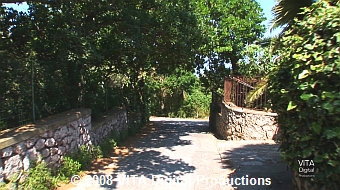 Every part of this walk offers more and more delightful scenery to enjoy...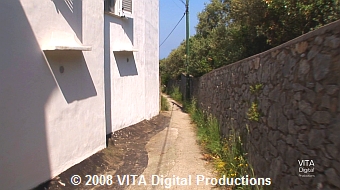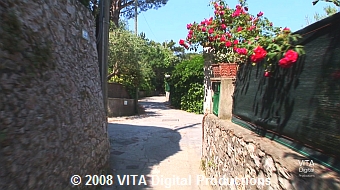 sun-washed white walls, flowers in bloom...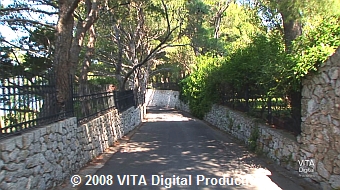 winding pathways and a solitude and tranquility that is rare in today's world.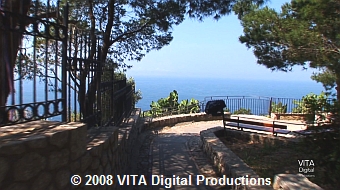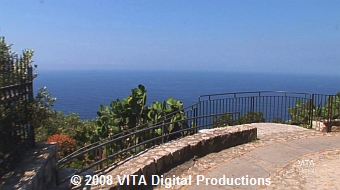 Now, the pathway hugs the side of the island, with the blue Mediterranean Sea below.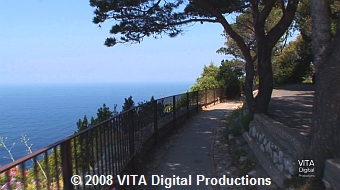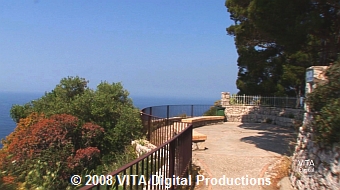 As your walk continues, some of the most spectacular scenery awaits you along the pathway ahead.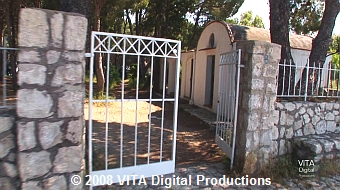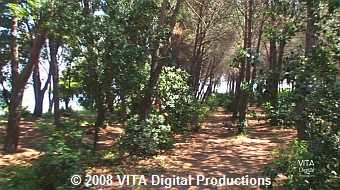 Turning away from the sea for a moment, you pass through gates and enter a forest of small trees.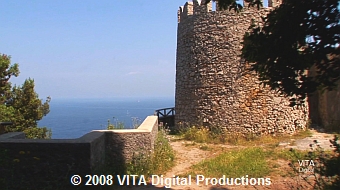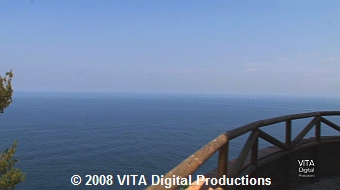 Exiting the forest, you discover an ancient turreted tower guarding the cliff...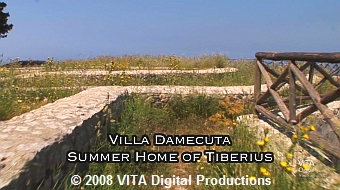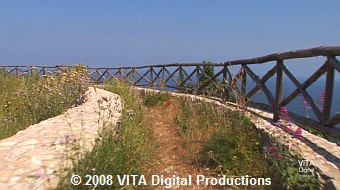 and the remains of the summer home of Roman Emperor Tiberius.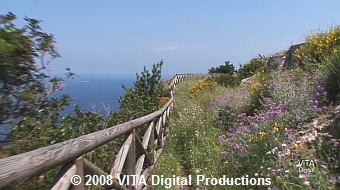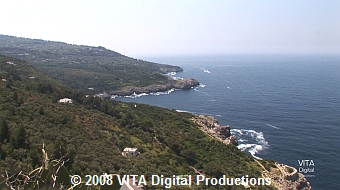 Your walk ends at the site of Tiberius' summer home as you
contemplate the same vista that the Roman Emperor viewed 2 millenia ago.
Click here to watch video highlights from this DVD.
And as a BONUS CHAPTER you get....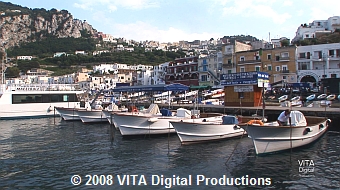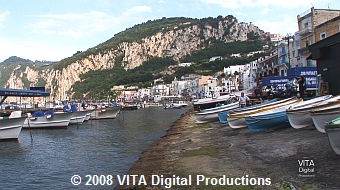 "A Day in Capri," a bonus chapter with a 10-minute featurette which takes a different look
at the Isle of Capri, is also included on this DVD!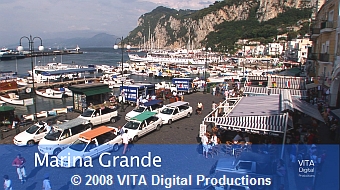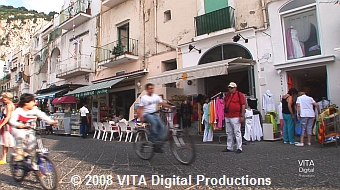 The featurette begins at the seaside Marina Grande, where visitors first land on the Isle of Capri.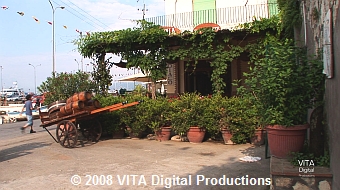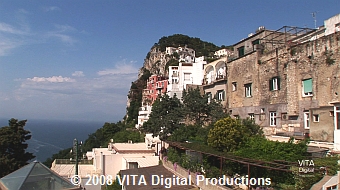 Accompanied by beautiful music, the bonus chapter can be used as a cool-down from your
exercise session, or as a beautiful stand-alone Italian travel video.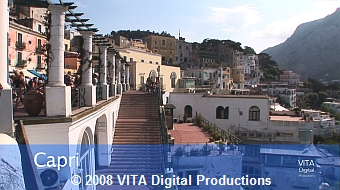 You'll take a leisurely look at the little town of Capri...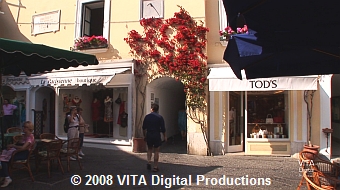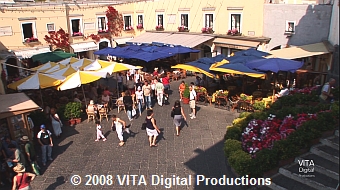 and some of its exclusive shops.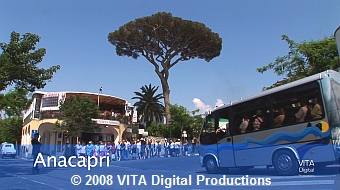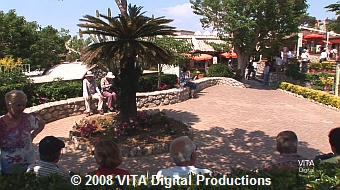 You'll also take a closer look at the town of Anacapri and some of its most scenic locales.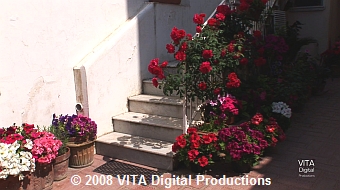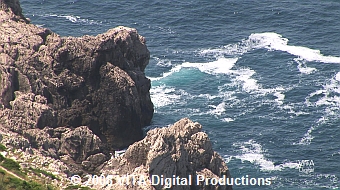 So much beauty on such a small island!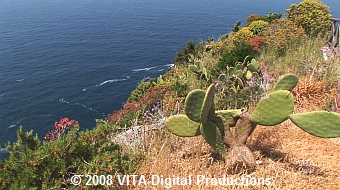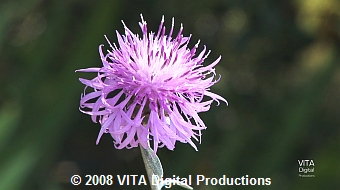 From scenic vistas to closeups of flowers, you'll enjoy "A Day in Capri."
---
And remember, this DVD makes a unique gift for family and friends!
---
---

PRODUCTION NOTES:

*While originally filmed in High Definition, the DVD you will receive
is in Widescreen and NTSC Standard Definition. The 50 minute virtual walk
is accompanied by the natural sounds (in Stereo) as they were recorded
on site in Italy. The 10 minute Bonus Featurette, "A Day in Capri,"
is accompanied by beautiful music.

The DVD you will receive is a "burned" DVD which was duplicated in our studio.

It contains an interactive menu and will play on DVD players and computers.

All of the above photos are actual still frames from the walk and DVD.


COPYRIGHT NOTICE:

We are VITA Digital Productions and we are selling this DVD.
We filmed all of the video footage used in this program, we edited it,
we have licensed the rights to the music used in this production,
and we own the copyright to this program and will aggressively defend it.

The program contained in this DVD is licensed for HOME USE ONLY.
If you intend to use this program in connection with a business of any kind,
you must contact us to obtain a license to do so.




ACTIVE SENIORS

HEALTH RELATED

VIRTUAL EXPERIENCE

CYCLING and JOGGING

TREADMILLS, ELLIPTICALS, ETC.

RIVER CRUISES

NATURE RELATED

STOCK FOOTAGE FOR TV NETWORKS

STOCK PHOTOGRAPHS

ITALY TRAVEL RELATED

GREECE TRAVEL RELATED

FRANCE TRAVEL RELATED

UNITED KINGDOM TRAVEL RELATED

EUROPE TRAVEL RELATED

EGYPT TRAVEL RELATED

CANADA TRAVEL RELATED

USA TRAVEL RELEATED

MISCELLANEOUS LINKS

OUR COMPANY'S LINKS

OTHER COMPANIES' LINKS